Advantages of glass bottles in Condiment Cruet
---
Glass bottle is a kind of traditional Condiment Cruet, and glass is also a kind of packaging material with a long history. With many packaging materials pouring into the market, glass Condiment Cruet still occupies an important position in condiment packaging
Glass bottle is a kind of traditional Condiment Cruet, and glass is also a kind of packaging material with a long history. With many packaging materials pouring into the market, glass Condiment Cruet still occupies an important position in condiment packaging, which is inseparable from its packaging characteristics that other packaging materials cannot replace.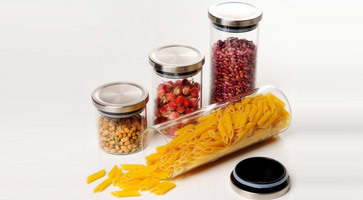 The main features of glass Condiment Cruet are: non-toxic and odorless; transparent, beautiful, good barrier properties, airtight, abundant raw materials, low price, and can be used in multiple cycles. And it has the advantages of heat resistance, pressure resistance, and cleaning resistance. It can be sterilized at high temperature and can be stored at low temperature. It is precisely because of its many advantages that it has become the preferred packaging material for many seasonings such as condiments.
Advantages of glass Condiment Cruet:
1. The type of glass Condiment Cruet has excellent insulation properties, which can prevent the erosion of the contents by vapors such as co2, and also prevent the volatile components of the contents from evaporating in the air;
2. Glass Condiment Cruet can be used several times continuously, which can reduce packaging costs;
3. Laminated glass Condiment Cruet can easily change the color tone and clarity;
4. Glass Condiment Cruet is healthy and safe, has excellent corrosion resistance and acid corrosion resistance, and is suitable for packaging acidic substances (such as fruit juice drinks, etc.);
5. In addition, because glass Condiment Cruet is suitable for the production of fully automatic filling equipment, China's glass Condiment Cruet fully automatic filling technology and the development trend of machinery and equipment are also relatively complete.

Condiment,Cruet,customized,Condiment,Cruet,china,Condiment,Cruet,Condiment,Cruet,Manufacturers,china
Aug 07,2023
The Benefits of Screw Glass Water Bottles for Everyday Use
---
Introduction: Screw glass water bottles have become increasingly popular among enthusiasts of everyday items, especially those with an interest in sustainable and eco-friendly products. This article sheds light on the benefits of incorporating screw glass water bottles into your daily routine, highlighting their practicality and unique features. 1. Durability and Safety: Screw glass water bottles
Aug 07,2023
The Benefits of Using a Screw Glass Water Bottle for Your Daily Water Intake
---
Table of Contents: 1. Introduction: A Sustainable Solution for Hydration 2. Why Choose a Screw Glass Water Bottle? 3. Enhanced Taste for a Refreshing Experience 4. Durability and Longevity: A Wise Investment 5. Eco-Friendly Features: Contributing to a Greener Planet 6. Protection from Harmful Chemicals: Safe for Daily Use 7. Convenience and Portability: Stay Hydrated Anywhere, Anytime 8. Easy Main
Aug 06,2023
The Benefits of Screw Glass Water Bottles for Everyday Use
---
Introduction: Screw glass water bottles have become increasingly popular in recent years as a sustainable and stylish alternative to plastic bottles. In this article, we will explore the numerous benefits of using screw glass water bottles for everyday use. From their durability and eco-friendliness to their ability to maintain the taste and temperature of your beverages, these bottles offer a ran