Comparing the production process of suppressed Glassware Tumbler Cups and mechanism Glassware Tumbler Cups
---
In the production process of Glassware Tumbler Cups, there are two processes for suppressing the Glassware Tumbler Cups and the assembly line for producing Glassware Tumbler Cups. What kind of Glassware Tumbler Cups and craftsmanship are suitable for these two production methods
In the production process of Glassware Tumbler Cups, there are two processes for suppressing the Glassware Tumbler Cups and the assembly line for producing Glassware Tumbler Cups. What kind of Glassware Tumbler Cups and craftsmanship are suitable for these two production methods? The process of pressing Glassware Tumbler Cups is that the inner wall of the container must be straight up and down, without bending parts, and the inside can be free of rules or patterns, and handles can be added.
The manufacturing process of suppressed Glassware Tumbler Cups is that the glass frit is indirectly entered into the forming mold from the guide trough, the pressing punch is indirectly pressed under the influence of air pressure, and then the forming mold is opened (there are wild mold opening and robot active mold opening, etc.). Wild or mechanical bottle clamps the glass cup and put it into the baking turntable. After intermittent baking, it enters the annealing furnace for secondary annealing, and then it can be tempered and packaged intermittently.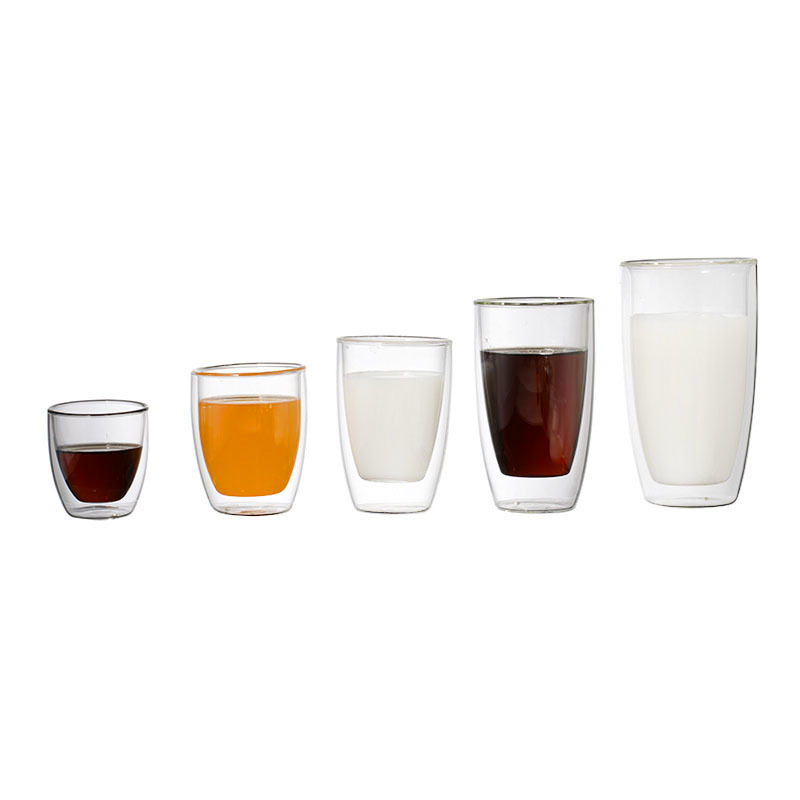 The assembly line mechanism Glassware Tumbler Cups process is a press-blowing method, which can be blown into a glass container with a bottle body diameter larger than the bottle mouth diameter. It is a process of blowing and pressing twice, and the mechanical structure is more complicated than pressing. The glass frit liquid mass is dropped into the prototype mold through the guide trough, and after the gas head is blown, the prototype bottle is formed. The bottle tongs of the final mouth mold are turned over and fall into the forming mold, and then the blowing head presses and blows again. The well-formed Glassware Tumbler Cups shape is sent to the secondary annealing furnace through a conveyor belt to anneal, and after it comes out, it can be tempered and packaged.
Glassware,Tumbler,Cups,customized,Glassware,Tumbler,Cups,Glassware,Tumbler,Cups,Manufacturers,china
Aug 07,2023
The Benefits of Screw Glass Water Bottles for Everyday Use
---
Introduction: Screw glass water bottles have become increasingly popular among enthusiasts of everyday items, especially those with an interest in sustainable and eco-friendly products. This article sheds light on the benefits of incorporating screw glass water bottles into your daily routine, highlighting their practicality and unique features. 1. Durability and Safety: Screw glass water bottles
Aug 07,2023
The Benefits of Using a Screw Glass Water Bottle for Your Daily Water Intake
---
Table of Contents: 1. Introduction: A Sustainable Solution for Hydration 2. Why Choose a Screw Glass Water Bottle? 3. Enhanced Taste for a Refreshing Experience 4. Durability and Longevity: A Wise Investment 5. Eco-Friendly Features: Contributing to a Greener Planet 6. Protection from Harmful Chemicals: Safe for Daily Use 7. Convenience and Portability: Stay Hydrated Anywhere, Anytime 8. Easy Main
Aug 06,2023
The Benefits of Screw Glass Water Bottles for Everyday Use
---
Introduction: Screw glass water bottles have become increasingly popular in recent years as a sustainable and stylish alternative to plastic bottles. In this article, we will explore the numerous benefits of using screw glass water bottles for everyday use. From their durability and eco-friendliness to their ability to maintain the taste and temperature of your beverages, these bottles offer a ran