What are the advantages and uses of borosilicate double wall glass drinking cup
---
Material: borosilicate double wall glass drinking cup is processed with high-quality borosilicate crystal glass tube, which has high transparency, wear resistance, smooth surface, easy cleaning, and is healthy and hygienic;
1. Material: borosilicate double wall glass drinking cup is processed with high-quality borosilicate crystal glass tube, which has high transparency, wear resistance, smooth surface, easy cleaning, and is healthy and hygienic;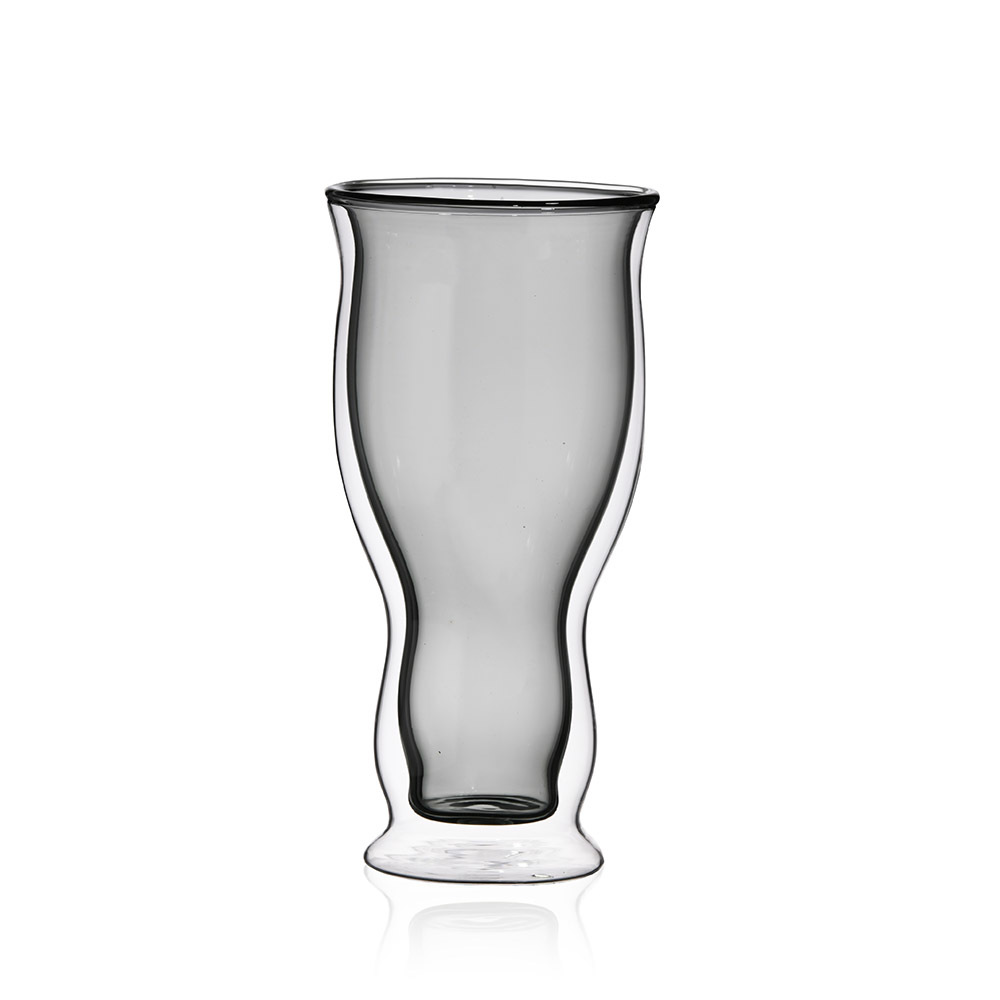 2. Structure: The double-layer heat insulation design of the cup body not only maintains the temperature of the tea soup, but also does not burn hands, making it more convenient to drink;
3. Process: It is fired at a high temperature of 630 degrees, has strong adaptability to temperature changes, and is not easy to burst;
4. Sanitation: Food-grade standard, can hold 100-degree hot water, tea, carbonated, fruit acid and other beverages, resists the erosion of malic acid, no peculiar smell and no smell;
5. Leak-proof: The inner and outer layers of the double-layer glass lid and the sealing ring meet the medical-grade safety standards, effectively preventing leakage;
6. Suitable for drinking tea: green tea, black tea, Pu'er tea, scented tea, craft scented tea, fruit tea, etc., with a panoramic view of the soup, improving the quality of life;
The borosilicate double wall glass drinking cup solves this problem by adopting a double-layer structure, which reduces the thermal conductivity of the cup body. While improving the comfort, it also improves the thermal insulation effect of the glass, which is the best of both worlds. In addition to the user-friendly design, the double-layer glass also has a good aesthetic value. The transparent texture combined with the double-layer structure almost sublimates the brewing of tea into a dynamic artistic act.
In addition, if the tea is brewed in a double-layer glass cup, the bright color of the tea soup, the tenderness and softness of the tea leaves, the up and down movement of the tea leaves during the whole brewing process, and the gradual stretching of the leaves, through this unique cup body, bring a sense of comfort to the user. Or a very tasteful visual enjoyment. The double-layer glass is bright in color, clear in body, exquisite and transparent, beautiful and practical, and it is an emerging gift.
Precautions
The borosilicate double wall glass drinking cup has many patterns, and it can also be customized into different advertising cups, gift cups, image cups, promotional cups, etc. according to customer requirements.
borosilicate double wall glass drinking cup
Aug 07,2023
The Benefits of Screw Glass Water Bottles for Everyday Use
---
Introduction: Screw glass water bottles have become increasingly popular among enthusiasts of everyday items, especially those with an interest in sustainable and eco-friendly products. This article sheds light on the benefits of incorporating screw glass water bottles into your daily routine, highlighting their practicality and unique features. 1. Durability and Safety: Screw glass water bottles
Aug 07,2023
The Benefits of Using a Screw Glass Water Bottle for Your Daily Water Intake
---
Table of Contents: 1. Introduction: A Sustainable Solution for Hydration 2. Why Choose a Screw Glass Water Bottle? 3. Enhanced Taste for a Refreshing Experience 4. Durability and Longevity: A Wise Investment 5. Eco-Friendly Features: Contributing to a Greener Planet 6. Protection from Harmful Chemicals: Safe for Daily Use 7. Convenience and Portability: Stay Hydrated Anywhere, Anytime 8. Easy Main
Aug 06,2023
The Benefits of Screw Glass Water Bottles for Everyday Use
---
Introduction: Screw glass water bottles have become increasingly popular in recent years as a sustainable and stylish alternative to plastic bottles. In this article, we will explore the numerous benefits of using screw glass water bottles for everyday use. From their durability and eco-friendliness to their ability to maintain the taste and temperature of your beverages, these bottles offer a ran